Providing Respect, Dignity, Connection and Care
Long term care at Shalom Village
What makes Shalom Village different is our unique "AT HOME" approach to care. Our goal is to help people maintain their quality of life. We provide opportunities for residents to participate in activities that have personal meaning and value.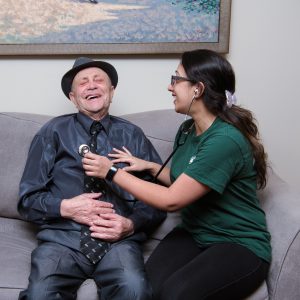 Shalom Village welcomes residents of all faiths and provides nursing and personal care on a 24-hour basis.
Registered nurses lead our care team and our staff physician guides residents' medical care. Our specially trained team helps those with cognitive impairments get the most out of life. We are also experienced in complex care, including gastric tubes, oxygen and IV.
We offer two long term care locations:
Levy Long Term Care in Shalom Village Original
Gould Long Term Care in Shalom Village
(All Resident Suites have Air Conditioning for thier Comfort)
We believe that everyone should be able to live in a home where they are respected, can live with dignity, and can continue to be connected to their community.
For more information on long term care or to arrange a tour, please call 905-529-1613 x 391.
Dining and Nutrition
Although we welcome individuals from all faiths and backgrounds, Shalom Village operates within the context of Jewish values. Our appetizing kosher meals are served in pleasant dining rooms, including snacks between meals and at bedtime. Our chefs work with a registered dietician to accommodate special dietary needs as required. Residents may keep non-kosher food in their rooms, and specific non-kosher dining areas are available for family members who wish to share a non-kosher meal with their loved one.
Please select the link below to view our menu
 Social Activities and Recreation
Our Community Centre offers a wide variety of social and recreational programs. Everyone is encouraged to participate in activities suited to their individual interests. All residents have access to The Club Fitness Centre, the Snoezelen, and many other innovative entertainment and therapeutic opportunities. We also provide accessible transportation for outings.
Residents have the opportunity to participate in activities such as art classes, visits from local farm animals, trips to local attractions and so much more. Additionally, the Shalom Village Charitable Foundation offers residents and families the opportunity to participate in events that support our community. The Foundation's Ladies Auxiliary Tea and the annual Hustle 4 Health, bring the larger community to Shalom Village, helping to make it a more vital place to live, work and visit.
See a full list of service and activities.
Palliative Care
Individuals and families facing end-of-life challenges at Shalom Village receive specialized care through the Lewis & Ruth Sherman Hospice Care Program.
Our focus during this time is comfort, while acknowledging that residents who are dying are still living. We help residents celebrate their lives and the legacies they want to leave through spiritual guidance, palliative care training for staff and volunteers, complementary therapies, individualized support at the end of life for residents and their families.
Licensing and Accreditation
Shalom Village is licensed by the Ontario Ministry of Health and Long Term Care.
Rates
In Ontario, all long term care facilities charge the same rates. Rates are set by the Ontario Ministry of Health and Long Term Care. Lower income residents may qualify for subsidized accommodation. We can help you determine eligibility and apply for subsidy benefits. Please contact our business office at 905-529-1613 x 269 or speak to the Community Care Access Centre at 905-523-8600 for more information about rates.
What to expect after applying for long term care at Shalom Village
Admission to long term care or convalescent care is by application to the Home and Community Care team at your Local Health Integration Network at 905-523-8600.
Your Home and Community Care case worker will notify you when your application is approved, and you will be given either a date of admission or a spot on a waiting list.
Once admitted, the new resident meets our Life Transitions Coach, who will help guide them and their family through the process of moving home to Shalom. The Life Transitions Coach will assist with the paperwork required for admission, including the admission contract, subsidy application, and our "getting to know you" package.
Upon arrival at Shalom Village, a new resident is greeted by our team members. Family and friends are encouraged to join for part or all of the day.
Over the next few days, the new resident will meet the health care professionals and other staff who will be responsible for their care, as well as their new neighbours and their families.
Within six weeks of admission, the resident and their loved ones are invited to attend a care conference with the resident's health care team to discuss their care up to that point.
How to Become Part of the Shalom Village Family
Admission to long term care or convalescent care is by application to the Home and Community Care team at 905-523-8600.
For more information, or to arrange a tour, please call  Lisa Slote at 905-529-1613 x 370.
Resident Bill of Rights
At Shalom Village it is important that all of our Residence are aware of their Rights under the Bill of Rights for people who live in Ontario long-term care homes.  Please select the link to view the Resident Bill of Rights.